Legislator Jacobs Announces EBA Funds Secure Property as Open Space
"After all these years of negotiations the County is very pleased to finally be able to ensure the perpetual preservation of such a magnificent piece of property for generations to come. Anyone who walks on this property will have the unique opportunity to view the terrain. Here is yet another reason why 77 percent of County residents voted for the Environmental Bond Act," said Legislator Judy Jacobs (D-Woodbury) following the legislature's affirmative vote during their last session of 2008.
The property in Oyster Bay Cove was owned by Debbie and Michael Held in Oyster Bay Cove. It was acquired through Environmental Bond Act funds and will be preserved forever as open space. The land, a habitat for several rare species of flora and fauna indigenous to New York State, is also part of a watershed that delivers fresh water to Oyster Bay harbor (which is beneficial to the oyster and clam beds) and contains a pond where ospreys and great blue herons, have been spotted.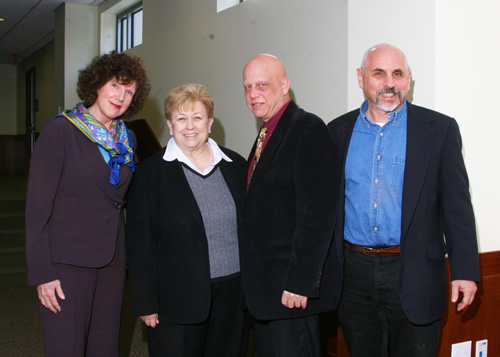 Pictured at the Nassau County Legislature is Debbie Held, Legislator Judy Jacobs (D-Woodbury);
County Open Space and Parks Advisory Committee Chairman Ralph Fumante; and Michael Held.