Legislator Jacobs Accepts Long Island Cares Turkey Challenge
Nassau County Legislator Judy Jacobs, (D-Woodbury) took the Long Island Cares Turkey Challenge held at the Mid-Island Jewish Community Center on November 13th. The JCC invited the public to stop by and donate a turkey or two that will be distributed to many of the 600 community-based organizations supported by Long Island Cares, Inc. to feed the hungry. Their goal was to collect 118 turkeys.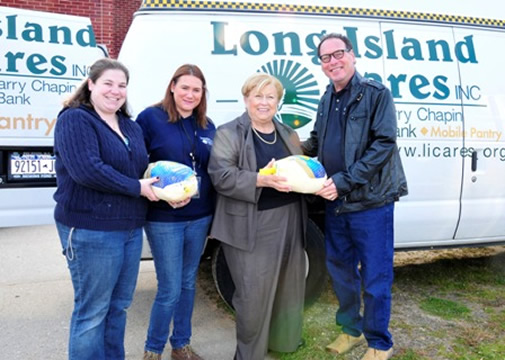 Photo: Stephanie Ginsberg, MSW. Assistant Director Adult Services; Elana Sissons, Food Drive Coordinator;
Leg. Jacobs; Paule T. Pachter, ACSW,LMSW Executive Director, Long Island Cares.