Legislator Jacobs Attends 28th Annual "National Night Out"
Nassau County Legislator Judy Jacobs (D-Woodbury) attended the 28th annual "National Night Out" held on August 2nd throughout the country. The night is devoted to informing citizens about crime awareness and prevention programs which are available. Police from the 2nd Precinct were present to speak to residents and pass out brochures dealing with items such as identity theft, home security, awareness of on line dangers to children concerning predators and more. The event was held in conjunction with the antique car show which is held every Tuesday during the summer months. The Police brought a vintage 1950's police car which they displayed. Jacobs said, "It is a time for all of us to say thank you to the police and to recognize the job they do for all of us."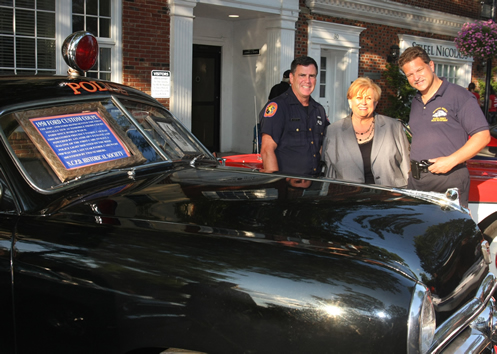 Legislator Jacobs is pictured with Nassau County Police Officer Jim Fucito and
Nassau County Police Department Public Info/Museum Steve Zacchia.