Legislator Jacobs Helps With Memorial Park Annual Planting
The weather was sunny but delightfully cool with a balmy breeze for the annual plantings at the Memorial Park on Underhill Boulevard and Jackson Avenue in Syosset on May 15th. Legislator Judy jacobs joined Residents for a More Beautiful Syosset and cub scouts who worked diligently to plant the beautiful flowers donated by Di Benedetto Garden Center in Syosset and Meyers Farm in Woodbury. Jacobs said, "This is such a wonderful thing for a community organization to do……the beautification of the community and such a phenomenal thing for two businesses in the area to participate in. It was an honor to stop by and, of course, bring some flowers with me.
(Below) Nassau County Legislator Judy Jacobs stops fror a moment to thank two local Cub Scouts for their most welcome assistance.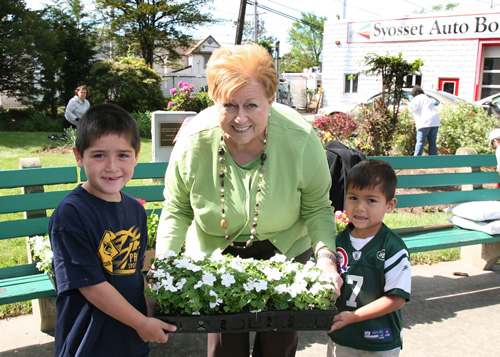 (below, left to right): Director of Event Leslie Levy, Legislator Judy Jacobs, Vice President Laura and her husband
Robert Schultz, Karen Borelli, Board Member Victor J. D'Angelo and a number of young gardeners.