Legislator Judy Jacobs Honors Michele Browner
Nassau County Legislature's 2011 Trailblazer of the New Millennium
Ms Browner, a registered nurse, with a sales background, helped to form a company GourMelts in 2006. This company which began marketing new food products to the retail and food service industry utilized Michele's talents as Chief Operating Officer.
Most recently, Michele brought her nursing and business skills to serve as Administrator and Nursing Director for an assisted living organization.
Michele is currently president of the Oyster Bay-East Norwich Chamber of Commerce where she works with civic and governmental groups to foster the community's economic growth. A local Girl Scout leader, Michele was named a Town of Oyster Bay 2009 Woman of Distinction in the area of community and civic affairs.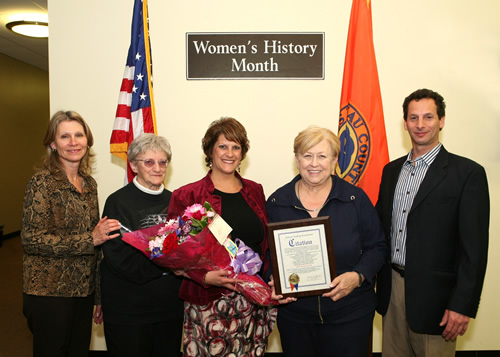 Nassau County Legislator Judy Jacobs (D-Woodbury) honored Oyster Bay community activist Michele Browner
as a Trailblazer during recent Women 's Month ceremonies at the Legislature's chambers.