Legislator Jacobs Hosts Property Tax Forum
Legislator Judy Jacobs (D-Woodbury) held her second property tax forum in St. Edwards RC Church in Syosset on Thursday, October 14th. Experts from the Assessment Division of the County, led by Jim Davis, came complete with forms and computers to give individual attention to residents. The first forum was held in Oyster Bay Hamlet earlier in the month. The final third forum will be held in the Plainview Library on Monday, the 25th of October from 12 noon to 3 PM. "I urge all residents who might have questions on any exemptions to which they may be entitled, to make every effort to attend. It eliminates the need to go to Mineola to obtain answers." Jacobs said.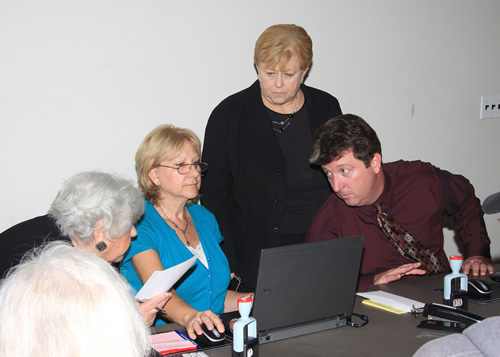 Pictured are Jim Davis, other members of the assessment team, and residents as they review a resident's concerns.