Legislator Jacobs Salutes Eagle Scout Scott Glasgow
Scott M. Glasgow is the pride of Boy Scout Troop 170 in Syosset. Scott completed the requirements for the rank of Eagle Scout and was recognized for this achievement during a Court of Honor held at faith Lutheran Church last month. Nassau County Legislator Judy Jacobs (D-Woodbury) presented Scott with a citation in recognition of his outstanding Scouting career which included his Eagle project—the rebuilding of the meditation garden and outdoor chapel at the Woodbury United Methodist Church. Legislator Jacobs commended Scott for his determination, leadership and community spirit. Bully!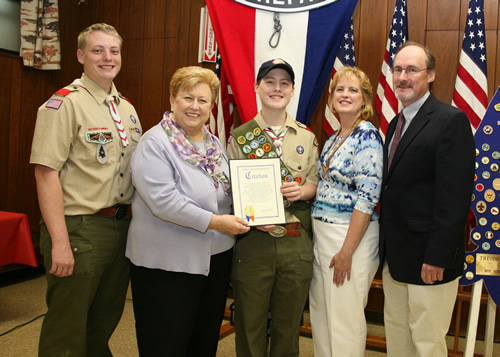 Pictured at the Court of Honor with Eagle Scout Scott M. Glasgow are: his brother Kevin; Legislator Judy Jacobs; mom, Kathleen and dad, William all of whom live in Syosset.