Jacobs sworn in for 8th term
New Minority caucus pledges to keep County on firm fiscal footing;
maintain open government & put taxpayers' needs first
Nassau County Legislator Judy Jacobs (D-Woodbury) was sworn in for her eighth term in office by New York State Comptroller Thomas DiNapoli, along with her fellow Minority Caucus legislators, at the Cradle of Aviation Museum in Garden City, on Monday, January 4 at 10a.m.

Jacobs is the longest serving legislator in the Minority Caucus. She represents the communities of Bethpage, Cove Neck, East Norwich, Jericho, Laurel Hollow, Muttontown, Oyster Bay, Oyster Bay Cove, Plainview, Syosset and Woodbury.

"I am honored for the opportunity to continue to serve my constituents in the 16th district as I focus on a wide variety of issues in the communities that I represent," said Jacobs. "As part of the new Minority caucus on the Nassau County Legislature, I will be working together in a bipartisan spirit with my colleagues to help the County navigate through these difficult economic times. We must do our best to keep our County on firm financial footing while also addressing the concerns of our hard-pressed taxpayers."

The Democrats of the Nassau County Legislature will begin the eighth term of the legislature as the new Minority Caucus of eight. Led by Minority Leader Diane Yatauro (D-Glen Cove), they include Jacobs, Kevan Abrahams (D-Hempstead), Dave Denenberg (D-Merrick), Joseph Scannell (D-Baldwin), Wayne Wink (D-Roslyn), Judi Bosworth (D-Great Neck) and newcomer Robert Troiano, Jr. (D-Westbury).

"In our new role as the Minority members of the legislature we will continue to be fiscally responsible and supportive of any measures that are in the best interest of Nassau County's taxpayers," said Jacobs. "We would hope that all members of the legislature will work to maintain an open government that will foster an atmosphere where a healthy debate and exchange of ideas can always occur. This is what our democracy is all about."
The Minority's goals for 2010 include:
?Continue to keep the County's fiscal health stabilized during this national recession.
?Continue the environmental stewardship that the legislature has shown and the voters have supported by backing two environmental bonds to preserve land in Nassau County.
?Maintaining individual voices on the legislature and advocating for the interests of each district's residents.

"As the Minority Caucus we still intend to provide leadership in Nassau County government and a voice for the less fortunate," said Jacobs. "While we may be fewer in number, we are no less focused on the job we have been elected to do."

Jacobs will serve as a member of the Rules, Public Safety, Planning, Development & the Environment and Minority Affairs committees.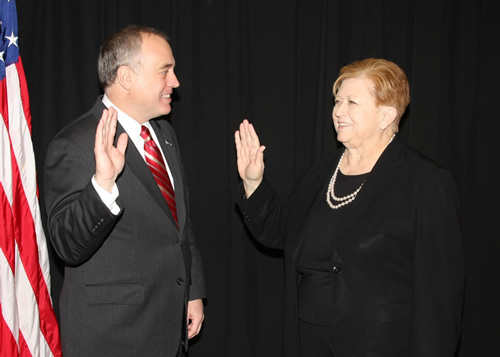 Nassau County Legislator Judy Jacobs (D-Woodbury) was administered the oath of office by NY State Comptroller Thomas P. DiNapoli.