Legislator Jacobs Installs Oyster Bay Civic Association Board
Nassau County Legislator Judy Jacobs (D-Woodbury) was the invited guest speaker at the January 20th meeting of the Oyster Bay Civic Association, held at the Italian/American Hall in Oyster Bay. Jacobs also was given the honor of installing the board of the civic association. "This is a wonderful group of very active, caring individuals, devoted to what is best for the Hamlet. It was truly an honor to be with them for this event," said Jacobs. She also gave a short overview of the County and certain initiatives for the Hamlet.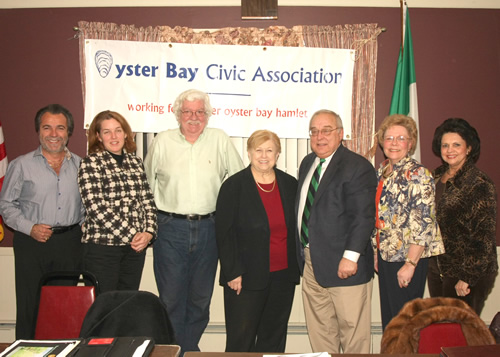 George DeMartino, Director, Oyster Bay Civic Association; Cat Colvin, Director, Oyster Bay Civic Association; Secretary, Gary Drury; Legislator Judy Jacobs, (D-Woodbury) President, William Von Novack; Vice-President, Judith-Ann Barnett; Treasurer, Louise Rea.