Groundbreaking for Nassau Community College New Life Science Building
Nassau County Legislator Judy Jacobs (D-Woodbury), a longtime supporter of Nassau Community College, frequently calling it "the jewel of the County", proudly attended the ground breaking for the new Life Science Building groundbreaking on Friday, June 11th. Jacobs said, "This is a very important day for the students of Nassau County providing a state of the art life science building to add to the other major academic benefits derived from Nassau Community College."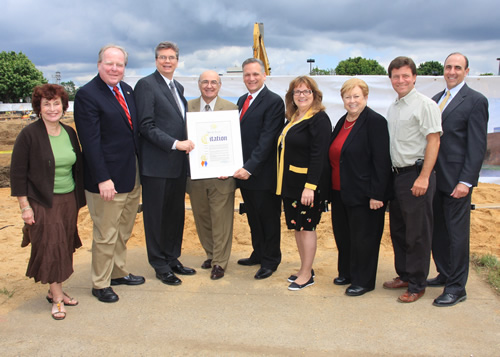 Legislator Judy Jacobs, third from right, is joined by left to right, County Legislator Norma Gonsalves, Presiding Officer Peter Schmitt,
NCC President Donald Astrab, President Emeritus Sean Fanelli, County Executive Ed Mangano, County Legislator Diane Yatauro,
County Legislator David Denenberg, and NCC Vice President of Administration and Planning Joseph Muscarella.