Nassau County Women Trailblazers Honored
The Nassau County Legislature honored outstanding women in Nassau County at their meeting held Monday, March 22nd to commemorate March being Women's History Month. Legislator Judy Jacobs (D-Woodbury) selected Plainview resident Ginger Lieberman as her honoree. Jacobs said, "Ms. Lieberman is an outstanding example of a woman of today who combines intelligence, perseverance, compassion and caring. Too numerous to mention all of her accomplishments, those which come to mind are 24 years service on the Plainview/Old Bethpage School Board, 9 years as President and 8 years as Vice President; an author and nationally recognized expert on bullying. She wrote "Bully Frog" with her friend and co-author Roni Benson. I am honored to honor such a phenomenal individual who also served as the Child Care Commissioner of Nassau County from 2000 through 2008."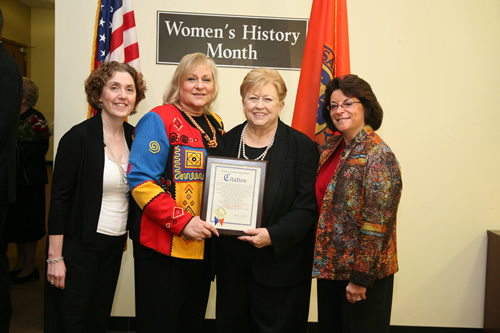 Above, at left, Legislator Judy Jacobs presents the Legislative citation to Ginger Lieberman.
Above, at right, President of the Plainview Old Bethpage School Board Lori Weinstein (left) and Board Member Evy Rothman (right), joined Honoree Ginger Lieberman as she accepts the citation from Legislator Judy Jacobs.