June 21, 2006
Jacobs and Legislators tour open space properties recommended for purchase
Get first-hand look at some of Nassau's land targeted for preservation
Time is ticking away for some of Nassau County's most prime parcels of open space, according to Nassau County Presiding Officer Judy Jacobs (Woodbury), who together with several other legislators and members of the press, took a bus tour recently of the properties targeted for preservation by the Nassau County Open Space Bond Act Committee.
Legislators, staff and members of the press toured Red Spring Woods in Glen Cove; Parkway Drive in Baldwin Harbor; Northwood Estate in Oyster Bay Cove; and the Boegner Estate at Old Westbury Gardens.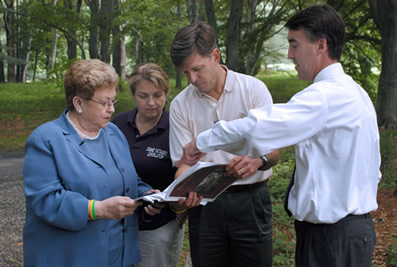 PHOTO CAPTION:
Nassau County Presiding Officer Judy Jacobs (Woodbury), pictured far left, reviews points from the open space preservation plan, which is awaiting a legislative vote, with project supporters Legislator Joseph Scannell (D-Baldwin), Legislator Diane Yatauro (D-Glen Cove), and Majority Counsel David Gugerty.
"The motivation to follow through with this legislation has been multiplied after experiencing these beautiful pieces of land," said Jacobs. "My colleagues and I would be doing residents a disservice by letting this precious acreage and wildlife be surrendered to development."
In 2004, Nassau County Legislators unanimously approved the placement of a referendum on the ballot authorizing the county to issue a $50 million bond for Clean Water, Open Space Protection and Parks. The referendum was overwhelmingly approved by voters.
The $50 million fund will be spent on open space and parkland acquisition, parkland improvement, storm water quality improvement and Brownfield remediation. The Legislature is responsible for approving any projects submitted by the Open Space Parks Advisory Committee, which issued its recommendations in March 2006.
"By creating an open space fund with definite funding sources, and several funding initiatives, we are raising the bar in Nassau County when it comes to preserving our precious open space," said Legislator Dave Denenberg (D-Merrick), Chair of the Planning, Development, and the Environment Committee.
The bus tour left the County Executive and Legislative Building in Mineola and allowed Legislators, as well as staff and members of the press, to visit each parcel of land that has been recommended for preservation. Once acquired as County properties, initiatives to clean up, rebuild, and revamp these abandoned areas can begin.
For now it is a race against time to have the recommended parcels voted upon by the legislature. "Over 200 acres of prime open space targeted for preservation have already been lost to developers," Jacobs said. "Action now by my colleagues will secure Nassau's dwindling open space."
For more information regarding the open space protection initiative, please contact Nassau County Presiding Officer Judy Jacobs at (516) 571-6216.