July 13, 2006
Jacobs, Nassau lawmakers, and environmentalists call for the protection of the Lloyd aquifer
'Environmental disaster can occur if this resource is compromised,'—Jacobs
Nassau County lawmakers, led by Presiding Officer Judy Jacobs (Woodbury), Legislator Diane Yatauro (D-Glen Cove), and Legislator Dave Denenberg (D-Merrick) today joined dozens of environmental activists in calling for the protection of the Lloyd Aquifer, Long Island's deepest underground water supply.
The Suffolk County Water Authority (SCWA) is seeking permission to dig a well in Northport into the aquifer. However, those opposed to this plan are citing that drilling into the aquifer could have larger implications by allowing salt water intrusion into many fragile areas. Currently, a 1986 state moratorium protects the Lloyd Aquifer from inland communities using its water except in cases of "extreme hardship."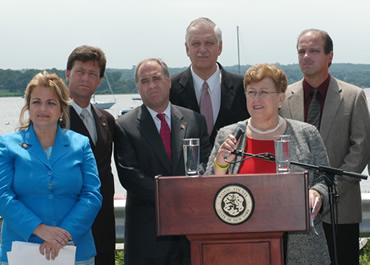 PHOTO CAPTION:
Nassau County Presiding Officer Judy Jacobs is pictured at a recent press conference at West Harbor Beach in Bayville along with other officials, Legislator Diane Yatauro (D-Glen Cove), Legislator Dave Denenberg (D-Merrick); Assemblyman Thomas DiNapoli, 16th District, Chairman of the Environmental Conservation Committee; Assemblymen Steven Englebright; and Doug Watson, Deputy Mayor of Bayville.
"I am concerned that due to the complex geology along the north shore of Nassau County, increased use of the Lloyd water would invite saltwater intrusion," said Presiding Officer Jacobs, a member of the Planning, Development, and the Environment Committee. "Saltwater might affect wells very close to the shoreline or it might seep inland through the erosion valleys documented in recent studies by the U.S. Geological Survey. Also, there are a number of private residential wells in parts of northern Oyster Bay Township. They could be at risk if saltwater intrusion problems increase."
Environmentalists agree that if all the aquifer formations along the north shore area became salty, it would create tremendous disruptions to the quality of life, the cost of drinking water, the economic health of the communities, people's property values, and serious disruptions to ordinary operations.
"The Suffolk County Water Authority's proposed drilling may compromise the water quality for many households, including private well owners who tap into the Lloyd Aquifer," said Legislator Yatauro. "The coastal residents deserve to be protected and expect drinking water that is pollutant-free."
"The Lloyd Aquifer is the lone source of drinking water for roughly 10 percent of Nassau County residents and this water source is under serious threat of contamination," said Assemblyman Tom DiNapoli (D-Great Neck), chair of the Assembly's Environmental Conservation Committee and co-chair of the NYS Legislative Commission on Water Resource Needs of NYS and Long Island. "The aquifer is vulnerable to overuse and the more wells that are sunk into it increase the potential for contamination. We have an obligation to protect this most precious resource for ourselves, our children and for the generations to come."
"Shame on the Suffolk County Water Authority to play politics with theIsland's mostvaluable aquifer," said Matthew Meng, Vice-President of the Long Island Drinking Water Coalition.
Legislator Jacobs also added that if a well permit is issued based on a weak set of facts, such as the Suffolk County Water Authority is proposing; it could open the door for other applications that would result in serious damage to the Lloyd aquifer.
"We know that the City of New York is interested in using the Lloyd aquifer for its own water priorities," said Legislator Jacobs. "I believe that SCWA has indicated that is has other wells that they would like to blend with Lloyd water if this application is approved. This type of expansive access to the Lloyd is just what the Lloyd Moratorium Law was intended to control."