July 28, 2006
Jacobs, Mejias Invite Singing Sensation Len Leeds to Legislature
Nassau County Presiding Officer Judy Jacobs (Woodbury) and Legislator Dave Mejias (D-North Massapequa) invited singing sensation and successful employment lawyer Len Leeds to a recent Legislative meeting to sing a selection from his new breast cancer awareness inspired single "Just Remember This: Love Will See Us Through".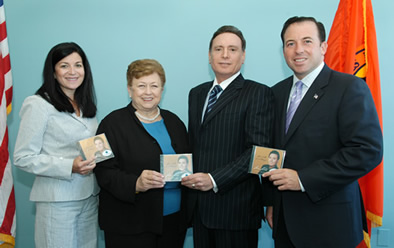 Pictured from left are Rhonda Samuel, President of the Long Island Board of Managers for CancerCare; Presiding Officer Judy Jacobs; Len Leeds; and Legislator Dave Mejias.
Some time ago Mr. Leeds represented a client who had been diagnosed with cancer. Mr. Leeds was motivated by his client's will to survive and her true belief that through love she would make it. He became driven to make a difference for cancer awareness through music and he wrote the song "Love will see us through," which he performed at the Legislative meeting. So far, Leeds has raised tens of thousands of dollars for cancer research, with his song.
Mr. Leeds also recently performed his debut album "From Lawsuits To Love Songs" for the CancerCare Gala Dinner at The Carltun in Eisenhower Park.
Don't miss Len Leeds phenomenal covers of well known tunes in his next performance on Long Island and you'll also be contributing your time for a great cause! For more information please call The Carltun at 516-542-0700 or e-mail to info@thecarltun.com or call Len Leeds at 516-729-6872 or e-mail to lenleedspr@gmail.com.