August 10, 2006
Jacobs again calls on LIRR to install "extensions" on dangerous platforms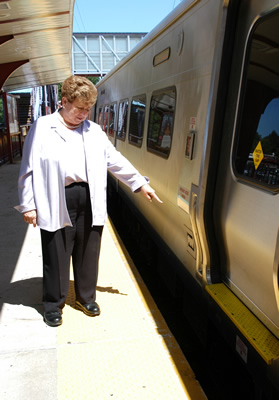 PHOTO CAPTION:
Presiding Officer Judy Jacobs points out the 15 and 1/2 inch gap at the Syosset train station.
Nassau County Presiding Officer Judy Jacobs (Woodbury) today again called on the Long Island Railroad President James Dermody to install extensions at certain train stations to alleviate the dangerous gap that exists between the trains and platform. This week a teenager died when she slipped into a gap while waiting for a train.
In a second letter to LIRR President James Dermody, Jacobs wrote:
"I was only further enraged following the tragedy in Woodside to learn that the gap at the Syosset Railroad Station is not an unknown phenomena to the LIRR. I noticed that there is a 5 inch gap at a station featured on the South Shore on Channel 12, followed by a complete piece on the gap in Syosset with a 15 ½ inch gap. This is a total disgrace. Children were jumping to get on, older people were holding on for dear life and all of this could have been avoided by just installing the same moveable gap filler bridges which exist in areas in New York City. I am at a loss for words as to any reason which can possibly be given for this lack of preparedness. I am certain that Syosset is not the only station with such a serious situation and I am requesting an immediate review be done of all stations and corrections be made immediately. Long Island deserves your attention.
Further, I would request that you inform your spokespeople to speak with compassion and understanding when tragedy strikes. On CBS radio, one of the spokespeople stated (paraphrase) "this is the first incident of this type in 10 years". I am certain that the young woman was a beloved family member and friend and one life is one too many to accept.
With great anticipation of an immediate response as to when I can tell my Syosset residents the situation will be corrected."