August 14, 2006
Jacobs urges LIRR officials to 'Bridge the Gap'
Legislator begins petition drive calling on rail road to close gap, not just video tape those who fall in
Jacobs to carry petitions at Syosset station on Wed., Aug. 16, 7 a.m. to 9 a.m.
Nassau County Presiding Officer Judy Jacobs (Woodbury) today announced that she will be launching a petition drive calling on Long Island Railroad officials to bridge the 15-inch gap that exists between the trains and platform at the Syosset train station, as well as other stations. Last week she called the railroad's proposed "solution" of video surveillance cameras "unacceptable."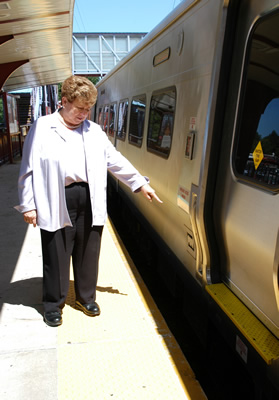 PHOTO CAPTION:
Presiding Officer Judy Jacobs points out the 15 and 1/2 inch gap at the Syosset train station.
Last week a teenager died when she slipped into a gap while waiting for a train at another station. The 15-inch gap at the Syosset station is most problematic because of the large curved platform. Following the accident, Long Island Railroad President James Dermody announced that the LIRR would be installing of $1,500,000.00 of surveillance cameras that would allow the viewer to see if, and how, anyone falls into the gap. Jacobs, on the other hand, called for the same protection that exists on many New York stations, where extensions come out from under the platforms to close the gaps on the train.
"Anything short of that same type of installation is totally irresponsible and unresponsive to the protection of public safety," said Jacobs. That is why she will be asking Syosset residents to sign a petition expressing their dissatisfaction with the LIRR's proposal and to write letters to LIRR President Dermody.
"Surveillance cameras cannot prevent a person from falling through the gaps. Surveillance cameras will not protect a person from being injured, or possibly killed. The LIRR knew about this problem since 1970," said Jacobs.
Jacobs will be at the LIRR Syosset station on Wednesday, August 16 from 7 a.m. to 9 a.m. asking commuters to sign a petition demanding that the LIRR "Bridge the Gap."
She is also urging residents to write to the LIRR president and address the letters to her office so that they can be mailed in bulk to the LIRR's offices. For more information, call 516-571-6216.
James Dermody, President, LIRR
C/o Nassau County Legislator Judy Jacobs
Room 118
One West Street
Mineola, NY 11501