September 21, 2006
Jacobs announces Woodbury Road intersection project finally completed
Nassau County Presiding Officer Judy Jacobs (Woodbury) today announced that the $3.2 M road improvement project to Woodbury Road-Syosset-Woodbury Road intersection is now complete.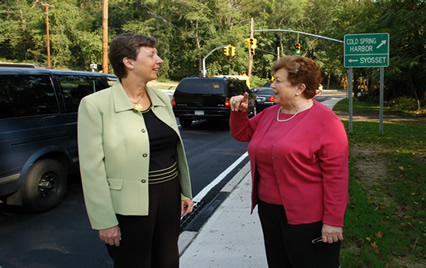 Photo Caption:
Nassau County Presiding Officer Judy Jacobs (Woodbury) is joined by Laura Schultz, from Residents for a More Beautiful Syosset, at the new traffic light at the corner of Woodbury Road and Syosset Woodbury Road.
According to Jacobs, the scenic, twisting stretch of county road through one of Nassau County's loveliest areas was a terribly dangerous location.
"The county's Department of Public Works did a fabulous job on this complex project," said Jacobs. "I would like to thank County Executive Tom Suozzi, Deputy County Executive Peter Gerbasi, Commissioner Ray Ribeiro and Deputy Commissioner Joseph Davenport for all their help. I am so pleased and impressed with the results. The residents of this area and drivers of Nassau County now have a safe, modern intersection."
Legislator Jacobs has worked since 1997 to secure funding for safety studies and the massive reconfiguration project. The project began last year and took one year to complete. The road was reopened two weeks ago, one month ahead of schedule.
The reconfiguration included straightening the intersection, adding turning lanes, the installation of a traffic light and the re-sloping of the hill on Syosset-Woodbury Road.
"We literally had to move a mountain to make to make this project happen, but we did it," Jacobs said.