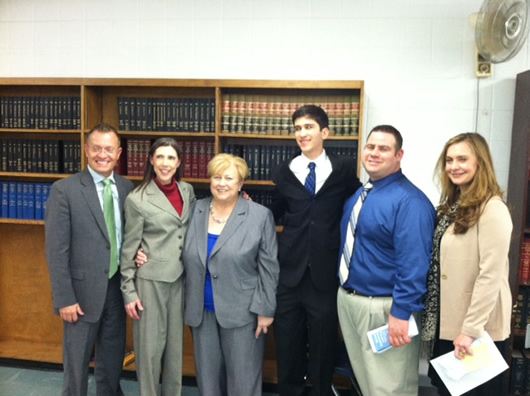 Principal, James Murray; President, CCPOB, Carol Meshkow; Leg. Jacobs; Samuel; Program Coordinator, Scott Lieberman; Teacher, Christina Visbal.
Nassau County Legislator Judy Jacobs (D-Woodbury) attended a service experience learning internship project held in the Business Department of the Plainview Old Bethpage JFK High School. The topic of the project was "September 11th Memorial Garden Newscast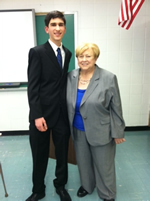 and Outlook." The student, Samuel Work and his mentor, Carol Meshkow, President of CCPOB, explained the project, which included a park located on the south side of Old Country Road, opposite the Plainview Diner. A piece of steel from the World Trade Center was dedicated to the POB community and Samuel recorded the entire event. He not only recorded the unveiling of the Memorial Garden but created a newscast video to remind all of us of the importance of never forgetting September 11th. He feels that this project will inform others in the community of the historical significance of 9/11.Mr. Scott Lieberman was the program coordinator of the event. Jacobs said, "I was honored to attend. Sam spoke so movingly of the importance of helping out, giving back to the community and being involved. It was a special presentation."