County Mammography Van Comes to Plainview
Nassau County Legislator Judy Jacobs (D-Woodbury) annually brings the County Mammography Van, known as the Mobile Breast Imaging Center ( which is available through the Nassau University Medical Center)to the community to enable women who do not have insurance to have a way to obtain the vital test performed, conveniently in the District. The van also accepts people with insurance who need the convenience of not having to travel to have the test done. The van was at the Plainview Shopping Centre located on South Oyster Bay Road and Woodbury Road on Wednesday, June 9th, with a filled appointment schedule. Jacobs said, "This is so important and I am so pleased that residents are taking advantage of this opportunity to have the test done. My praise, also, to the owners of the shopping centre for consistently making their parking lot available for the van."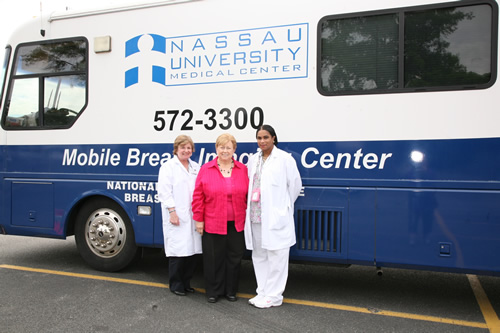 Pictured left to right are is Frances Risko the head of the Mammography Unit, Nassau County Legislator Judy Jacobs, and Stella Harmon, the technician for the Mammography Unit. Jacobs thanked the two women for their compassion and devotion to the health of our constituents.