Legislator Judy Jacobs Presents Nassau County Honors to Lana Ajemian
During legislative session last week, Nassau County Legislator Judy Jacobs (D-Woodbury) proudly presented Syosset resident Lana Ajemian with this year's Nassau County Woman Trailblazer Award. Legislator Jacobs said, "Many people in the Syosset-Woodbury community refer to Lana as the 'go-to' lady, but I know her as an extraordinary women who can accomplish anything she sets her mind to."
Mrs. Ajemian and her husband, Dr. Peter Ajemian, raised their four children in Syosset and are the proud grandparents of their first grandchild. Mrs. Ajemian is currently a member of, among others, the Syosset Chamber of Commerce, NY State School Boards Association, the executive committee of the Nassau –Suffolk School Boards Association, and the Jericho-Syosset/Woodbury Partnership of Child Care Council of Nassau. She is also a strong presence and dedicated volunteer with the NY State PTA, Nassau Region PTA, Syosset Council of PTAs, SEPTA and the Syosset High School PTSA.
Mrs. Ajemian has received numerous honors and distinguished awards from the myriad organizations in which she is involved. Congratulations to Lana Ajemian.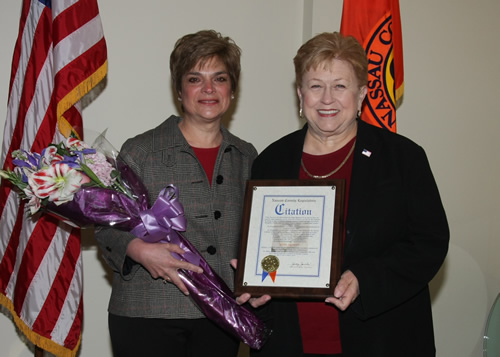 Nassau County Legislator Judy Jacobs (D-Woodbury) is pictured with Lana Ajemian, the 2009 Nassau County Woman Trailblazer Award recipient.