Local Brothers Honored as Eagle Scouts
Nassau County Legislator Judy Jacobs (D-Woodbury) had the pleasure of attending a double Eagle Scout award ceremony for two brothers, Mark and Gregory Rowsey. The event was held on Saturday, July 17th at Faith Lutheran Church in Syosset. Jacobs said, "The weather was hot, the room temperature was cool, but warmth filled the room as everyone celebrated this unbelievable event of having two sons who attained such a high honor." One young man cleared paths through a preserve for future generations to enjoy and the other participated in a project for St. Edwards' involving movable book shelves for future generations. Jacobs praised the two for caring about their community and doing such wonderful things for all to enjoy.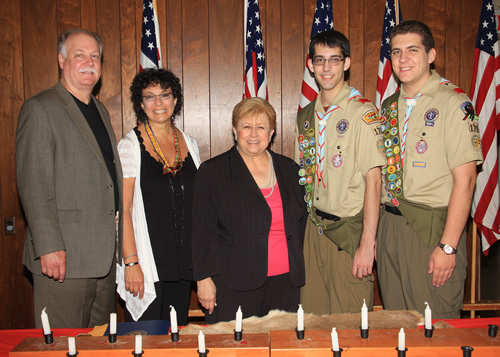 Pictured left to right are: Proud parents Mike and Susan Rowsey, Nassau County Legislator Judy Jacobs,
Eagle Scouts Mark Richard Rowsey and Gregory Ryan Rowsey.