Local Eagle Scout Receives Congratulations
Nassau County Legislator Judy Jacobs (D-Woodbury) attended the Eagle Scout Court of Honor for Timothy Bret Guarino, a scout from Boy Scout Troop 423, Plainview, Old Bethpage. The event was sponsored by Good Shepherd Lutheran Church in Plainview and was held on June 22nd. The troop is in the rough Rider District of the Theordore Roosevelt Council, BSA.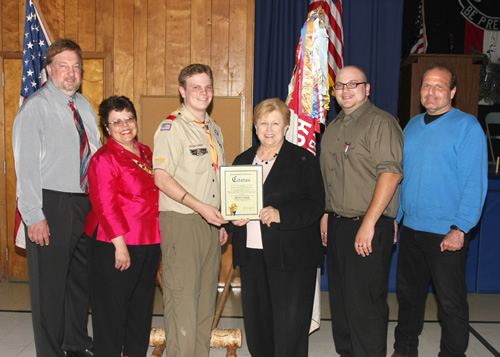 Pictured, left to right, are: Tim's Dad and Troop Scoutmaster Ken Guarino, Tim's mom, Eagle Scout Timothy Guarino,
Legislator Judy Jacobs, Tim's brother and an Eagle Scout, too, Ian Guarino and Tim's Uncle Marc Witz.