Long Island Chapter of Transplant Recipients
International Organization Rose Garden Ceremony
Nassau County Legislator Judy Jacobs (D-Woodbury) attended the annual Rose Garden Ceremony to honor Donor Families hosted by The Long Island Chapter of Transplant Recipients International Organization (TRIO). The event took place on September 17th in Eisenhower Park. Speakers included healthcare professionals, members of the NY Organ Donor Network, organ and tissue recipients and, of course, the Donor Families. "This is always such a moving and inspiring event and it is humbling to be in the presence of such outstanding individuals. My brother in law is a kidney/liver transplant survivor. I had the honor of meeting two young girls. One, Lauren Shields is a heart transplant survivor and the other, Gillian Cohen, is a liver transplant survivor. Words cannot adequately thank the Donor Families for their compassion at such a difficult time, nor can words express the awe one feels for those who have triumphed to live fruitful lives following the transplant they so desperately needed."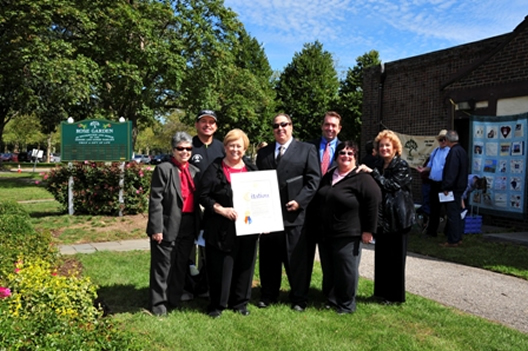 Left to right: Julia E. Rivera of NYS TRIO, TRIO Board member Dave Rodgers, Legislator Judy Jacobs,
LI TRIO President Michael Soana, Professor of Surgery and Medicine for North Shore/LIJ Health System,
Dr. Ernesto P. Molmenti, TRIO Board Member Jo Michaels, and transplant recipient Ronnie Schwartz.