Legislator Jacobs to Mangano:
Your Budget Threatens Public Safety!
The Democratic Caucus of the Nassau County Legislature held a press conference on Oct. 24, at the County Police Headquarters in Mineola and called upon the County Executive to restore some of the drastic service cuts he has initiated as part of his 2012 budget. The administration made serious reductions in police protection. The elimination of the Heroin Task Force is particularly bothersome to the 8 member Democratic Caucus. The task force helped combat the growing menace of heroin addiction across Nassau County. Its members were responsible for 432 arrests in 2010. "It's simple. Less cops and less detectives mean the streets are less safe," said Minority Leader Diane Yatauro (D-Glen Cove). The POP program, the Motor Carrier Unit, the anti-gang unit, and the Marine bureau are a few examples of police services which have been or are about to be reduced.
Legislator Judy Jacobs (D-Woodbury) said, "We all want to see waste removed from our County budget but in its proposed 2012 budget, the Administration has cut the heart out of essential police services we residents depend upon. Under this budget, the County Executive plans to eliminate 20 anti-crime officers leaving some precincts with no officers assigned to anti-crime patrol. In recent years, heroin has been a major problem in our schools. Children get addicted. Children die. The Heroin Task Force that Mr. Mangano is shutting down made over 400 arrests last year. Who will be protecting our children now? If Mr. Mangano wants to balance his budget, let him start by freezing his outside contracts to politically connected firms not by leaving our children at the mercy of drug dealers."
Other police services which have serious problems that need attention are the aging fleet of patrol cars and ambulances, the 911 call center where calls are not always answered promptly and the K-9 unit. The Caucus would like to see the administration work to improve these services not threaten them.

Legislator Kevan Abrahams (D-Hempstead) said, "The Mangano Administration continues to play politics with public safety. His administration wastes millions of our tax dollars on frivolous law suits, hiring their friends despite a hiring freeze and granting lucrative contracts to politically connected firms. Now, the County Executive wants to close two unnamed precincts making residents feel less safe in the neighborhoods. His priorities need to be re-examined."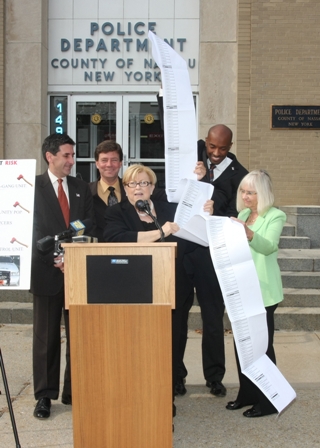 Legislator Judy Jacobs (D-Woodbury) is pictured at the press conference unfolding a lengthy list of County employees who take home County cars, many of whom are not first responders or on-call staff. Legislators Wink, Bosworth, Denenberg and Abrahams are also pictured.