Plainview/Old Bethpage Seniors St. Patrick's Day Luncheon
The "Full of Life", "Full of Fun", outstanding Plainview/Old Bethpage Seniors held their St. Patrick's Day luncheon at the Jamaica Avenue School in Plainview on Friday, May 19th. Wearing of the Green was the style of the day and laughter and good cheer filled the room.
Below, at left, Legislator Judy Jacobs (D-Woodbury) joined with members of the POB Seniors for a picture. Pictured with Judy are Loretta Obeda, RoseMarie Pinto, Marilyn Sacks, Rachel Staiano, Joseph Pinto, Connie Worrem, Abel Manha, Frank Staiano and Arnold Piellucci.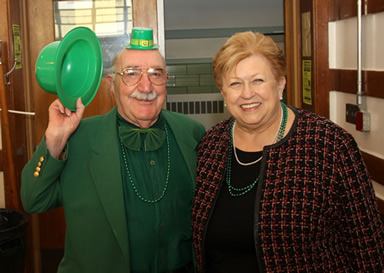 Above, at right, Arnold Piellucci, the gentleman with a ready smile and a great sense of humor, looked the part wearing 3 hats varying in size, of course in green, to symbolize St. Patrick's Day. Sharing a laugh are Legislator Judy Jacobs (D-Woodbury) and the "multi-hatted" Arnold Piellucci.