Federal Research and Development Tax Credit Announced
Nassau County Legislator Judy Jacobs (D-Woodbury) joined U.S. Senator Kirsten Gillibrand at Clever Devices, an Oyster Bay business, located in Plainview. Senator Gillibrand was there to announce her initiative to expand the research and development tax credit. These tax credits would be available to companies in order to encourage innovation and job creation among small businesses. At the present time the Research and Development tax initiative expires at the end of every year, leaving the companies to wonder if it will be renewed for the following year. This created uncertainty for the companies. Senator Gillibrand stated that expanding the credit by making it permanent and not annually dependent on renewal would create 162,000 jobs nationwide. Joining Legislator Jacobs were State Assemblyman Chuck Lavine, Frank Ingrassia, President and chief executive of Clever Devices and owners of other prominent businesses on Long Island such as GSE Dynamics and GlobeComm. Jacobs said, "Enhancements to economic growth and stability are the key to a municipality surviving during these stressful economic times. I applaud Senator Gillibrand's efforts."
(below) Frank Ingrassia, President, Clever Devices; US Senator, Kirsten Gillibrand;
Legislator Judy Jacobs,(D-Woodbury); NYS Assemblyman Chuck Lavine.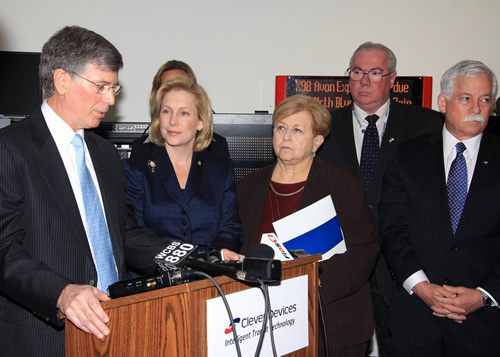 (below) Legislator Jacobs addresses the audience.