Senior Citizen Affairs' 36th Annual May Luncheon
The Nassau County Department of Senior Citizen Affairs held their 36th Annual May luncheon conference in Observance of Older Americans Month on Friday, May 14th at the Long Island Marriott Hotel in Uniondale. Legislator Judy Jacobs said, " There was a wonderful turnout and phenomenal excitement and energy in the room."
(Below) Legislator Judy Jacobs (D-Woodbury), center standing, joined the members present from the Plainview/Old Bethpage Senior Citizens Club. Seated second from right are Rachel Staiano, the Executive Director of the Club. She was joined by the other club members at her table. Jacobs said, " The Plainview/Old Bethpage Senior Ciitizen Club is just outstanding. Their exhuberance is contagious.":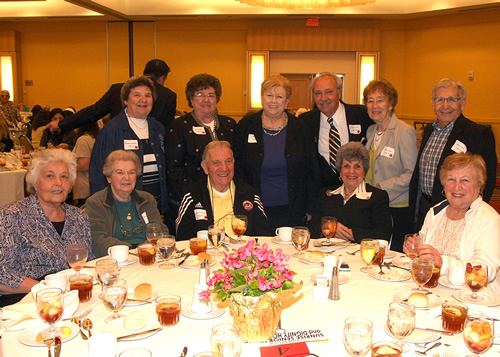 (Below) Standing in the center are Legislator Judy Jacobs (D-Woodbury), and Doubleday Babcock Senior Center Exectuive Director Gail Speranza, enjoying the luncheon and delightful company of Mary Frignani, Elaine Sarin, Doris Brandt, Ammalee Oakman, Cheila Cisco, Alice O'Hagan, Grace Lepore, Margaret Beckett, Catherine Messera, Don Pippin, Jr., and Tom Kleeman. Jacobs said, "The Doubleday Babcock Senior Center in Oyster Bay is really a phenomenal place which offers endless activities to its participants under the compassionate and skillful leadership of Gair Speranza."