July 2, 2010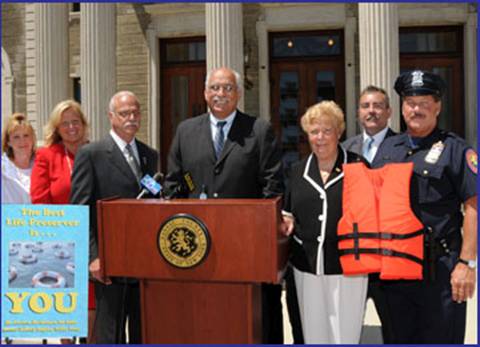 Legislators Dunne, Walker and Belesi,
American Red Cross, and Health Officials Call for
Increased Safety Precautions in Pools and Ocean
Nassau County Legislators Dennis Dunne, Rose Marie Walker and Joseph Belesi called for public awareness of pool and ocean safety as the summer season begins. There have been at least 27 instances of children drowning this summer nationwide – seven of which have occurred in Long Island. Last week a 3 year old and nanny drowned in a backyard pool, and a 12 year old drowned in Long Beach.
"It is imperative that all Nassau residents are reminded of the safety precautions they can take to keep their children safe this summer," said Legislator Dunne, Chair of the Public Safety Committee, "The best life preserver is you."
The Legislators informed residents of the steps they can take to reduce the risk of water-related accidents, both around the home and at beaches and pools. Dunne, Walker and Belesi spoke not only as legislators but also as parents and grandparents. "There are many simple actions parents can take to improve children's safety. Be sure to comply with all local requirements for backyard and public pools, and always read the signs at the beach to ensure that a lifeguard is on duty," said Legislator Belesi, Co-Chair of Public Safety.
Pursuant to the Nassau County Health Department, nationally, drownings are the leading cause of injury death for young children ages 1 to 4, and three children die every day as a result of drowning. This is preventable! Nassau County Department of Health advises all residents and visitors to our beaches and pools to obey all posted safety rules and regulations. This includes, only swimming at regulated beaches with a lifeguard on duty, obey all posted signs and warnings and always designate a responsible adult to watch children in and around the water – there is no substitution for supervision. For additional tips and safety information, please visit the Health Department's website at http://www.nassaucountyny.gov/agencies/Health/index.html
The Nassau County chapter of the American Red Cross discussed the crucial steps every parent must take to ensure their children avoid harm this summer. NC Marine Bureau Police Officer Joel Fuoco also spoke about the dangers of BWI – Boating While Intoxicated. Drinking and then operating a boat is very unsafe and can lead to serious accidents.
"The bottom line is safety. As we enter the busy summer season, I urge everyone to prioritize safety when they visit the pools and beaches, and when they go boating," said Legislator Walker, Chair of the Health Committee.
Pictured: Mary Ellen Laurain, NC Health Department Director of Communications & Health Education, Diana Price, Aquatics Coordinator, American Red Cross, Nassau County Chapter, Legislator Belesi, Legislator Dunne, Legislator Walker, Lt. Bob Beckmann NC CERT Director and Police Officer Fuoco.