Wantagh Park
Wantagh, 1 King Road, just south of Merrick Road
516-571-7460
On-site staff: Yes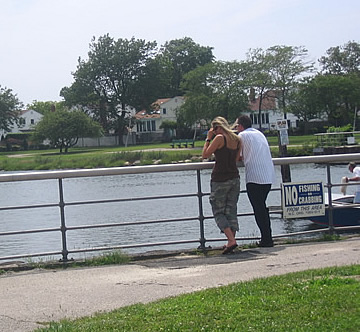 A couple enjoy the beautiful water view at Wantagh Park
---
Wantagh Park, located in southeastern Nassau County, has been part of the county park system
since 1961. Consisting of 111 acres, the park
provides a waterfront location and numerous opportunities for recreation, along with seating areas that allow visitors to relax and enjoy the magnificent view. Among the more unique events taking place at the park is the annual Basset Hound Olympics, which draws particpants from around the New York area.
---
Athletics/Physical Activities::
There are five tennis courts (Leisure Pass and fee required);
and one basketball court.
Athletic fields include three softball fields and one baseball field, two of which are lighted (permits required).
There are 1-mile and 2-mile walking paths that can also be used for bicycle riding and jogging.
Fitness Trail:
A two-mile Fitness Trail that provides a jogging or walking trail and 20 attractive and simple fitness stations that incorporate a variety of exercises. These include stretching, pull-ups, sit-ups and balance walking exercises that increase slightly in difficulty as the trail proceeds. The trail begins by the entrance to the park and winds around the park before ending by the marina. See "News & Events below for more information.
Family/Kids:
A playground located at the north end of the park has apparatus appropriate for toddlers through teens. There are eight reserved (fee) picnic areas, which include barbecue equipment and one sheltered area (permit required). Leisure Pass and fee required for reserved areas. Leisure Pass and fee required for reserved areas. There is also a section available for small non-reserved picnic groups. See "News & Events" below for more information.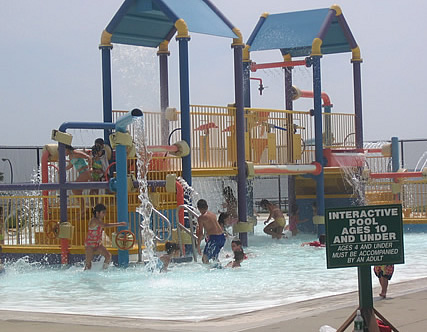 The large swimming complex offers a variety of different pools and activities for children and adults.
Swimming:
A swimming complex (fee required) includes an Olympic-sized main pool, a diving pool, a "kiddie" pool, training pool, an interactive water-play area and two waterslides (30 foot).
The pool complex includes various conveniences, including lockers, showers, a concession stand, and lounge and deck chairs.
Hours: Mon.-Sun., 10 a.m. - 6 p.m.
Fees (daily): resident adult, $7; resident child (4-17 years of age), $5; resident senior, disabled, vol. firefighter, ambulance corps auxiliary police, veterans, $3; non-resident adult, $25, non-resident senior & child, $19. A Leisure Pass is required for residents to receive the resident rate. Seasonal passes are also available for residents with Leisure Passes, with rates as follows: families ($225); individuals ($90); and seniors ($50).
Boating & fishing:
Launch ramp permits are available seasonally or daily (fee required; permit obtainable at the Park Administration Office).
A fishing pier just beyond the marina is open year-round,
weather permitting.
Marine boat slips are also available.
Dog run:
A dog run includes separate areas for big and small dogs; it is located just up from the administation building. Please note that dogs are not allowed in any County parks or preserves, with the exception of the dog runs.
Other:
Bocci and horseshoe courts are available, along with a game area for chess and checkers and a senior citizen gazebo.
Directions:

Take the Southern State Parkway to Exit 27 South (Wantagh Parkway). Exit off the Wantagh Parkway at Sunrise Highway East. Make a right onto Wantagh Avenue. Take to the end and make right onto Merrick Road. At first light make a left into park.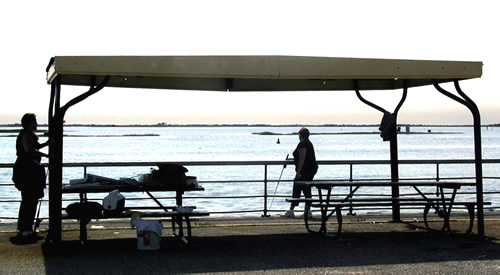 Patrons at Wantagh Park enjoy the fishing pier just beyond the marina.
.......................................................
.
.

Mangano Announces Outdoor Pool Openings And Swim Lesson Registration for the

2014 Summer Season

Mineola, NY – Nassau County Executive Edward P. Mangano has announced that four of Nassau County's outdoor swimming pools will open for the 2014 season on Monday, June 30th. Pool locations to open on the 30th of June include: Cantiague Park, Christopher Morley Park, North Woodmere Park, and Wantagh Park. The fifth County pool located at Nickerson Beach, will open on Saturday, June 14th.

Additionally, swimming lessons are offered at four of the County Park's outdoor pools and are available for ages 3 and up. There will be 3 sessions this summer, each session is 2 weeks long and will run Monday – Friday, during the designated class times. There will be no classes held on Friday, July 4th.

To register for Swim lessons, any participant over the age of 13 must have a current leisure pass. Each class is $65 plus a $5 registration fee.

Registration Dates are as follows:

June 2nd: North Woodmere from 6:00 p.m. – 8:00 p.m.

June 3rd: Wantagh Park from 6:00 p.m. – 8:00 p.m.

June 4th: Cantiague Park from 6:00 p.m. – 8:00 p.m.

June 5th: Christopher Morley from 6:00 p.m. – 8:00 p.m.

.......................................................................................................
.
Nassau County Executive Ed Mangano announces that picnic reservations for the coming season may be made at Nassau County parks beginning in February. Reservations can be made for the following parks:
County regulations require that 75% of all picnic participants be Nassau County residents. A special permit is required for the use of alcoholic beverages, and this permit must be purchased at least one week in advance of any reserved or unreserved picnic. To make catering arrangements, patrons must contact the park concessionaire, Dover Caterers, at 516-933-4444, ext. 12 or 16. Picnic reservations must be secured from the individual park before catering can be arranged.